Source: FortLauderdaleDaily.com |  Author: Eric Barton | Published: March 23, 2017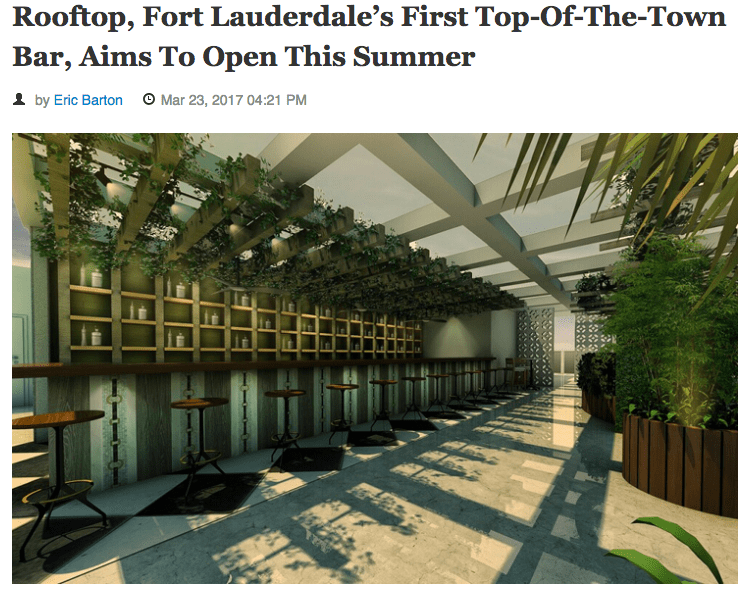 "Rooftop, Fort Lauderdale's First Top-Of-The-Town Bar, Aims To Open This Summer"
If there's one thing we don't have in Fort Lauderdale, it's a downtown rooftop bar—but it looks like that'll be changing soon.
Next month The Restaurant People will begin construction on the aptly named Rooftop, a bar-slash-restaurant eight stories above Las Olas Boulevard.
It will occupy a 4,000-square-foot roof on top of the new KO Lawyers building at the corner of Las Olas and Andrews Avenue. Still-being-developed menu items will be brought up from a kitchen on the ground floor.
The design will feel like a chic resort patio, with planters of bamboo and a vine-covered trellis running over a long retro-look bar. Couches and lounge chairs will cover an area that blends turf, tile and outdoor rugs. It'll be part open-air, part exposed to the sun, and surrounded by downtown's skyline.
"Rooftop will be very natural," said Tim Petrillo, president and co-founder of The Restaurant People. "It will feel like you're in a garden, but up on top, right in among the buildings."