Source: FortLauderdaleDaily.com |  Author: Holly Gambrell | Published: October 20, 2017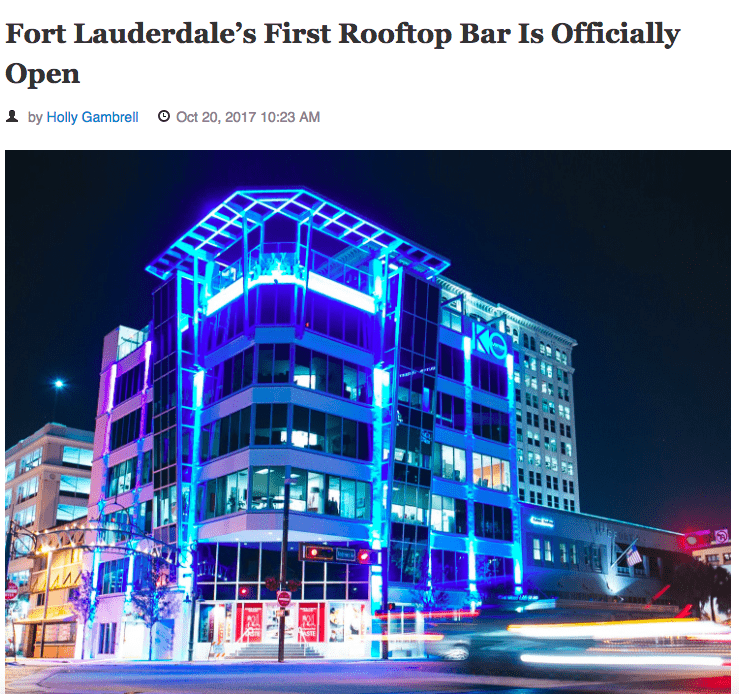 "Fort Lauderdale's First Rooftop Bar Is Officially Open"
Fort Lauderdale is now a little bit chicer.
The city's first rooftop bar and lounge, Rooftop @ 1WLO, opened to the public on Oct. 13. Situated at the top of the One West Las Olas building, the open-air patio boasts 4,000 square feet and is elevated eight stories above Las Olas Boulevard.
Surrounded by panoramic views of downtown's skyline, the garden in the sky's bar menu includes craft-inspired, ingredient-focused cocktails. The menu also includes small bites and shareables from its sister venue, TRP Taste, located on the ground floor of the One West Las Olas building. Menus will evolve based on seasonal ingredients.
Rooftop @ 1WLO is open every day at 4 p.m., except Mondays. For more information visit rooftop1wlo.com.