Source: South Florida Business Journal |  Published: July 6, 2018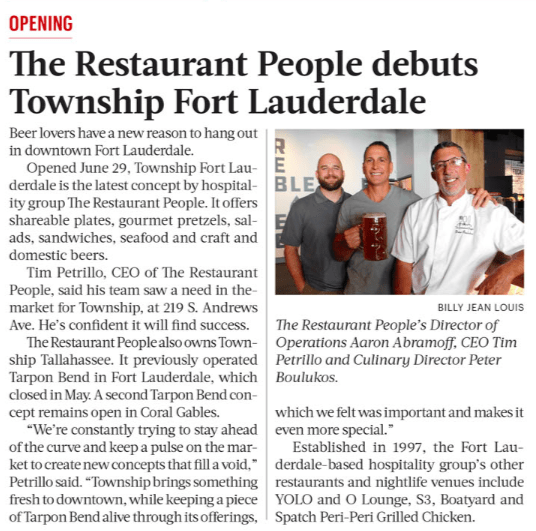 "The Restaurant People debuts Township Fort Lauderdale"
Beer lovers have a new reason to hang out in downtown Fort Lauderdale.
Opened June 29, Township Fort Lauderdale is the latest concept by hospitality group The Restaurant People. It offers sharable plates, gourmet pretzels, salads, sandwiches, seafood and craft and domestic beers.
Tim Petrillo, CEO of The Restaurant People, said his team saw a need in the market for Township, at 219 S. Andrews Ave. He's confident it will find success.
The Restaurant People also owns Township Tallahassee. It previously operated Tarpon Bend in Fort Lauderdale, which closed in May. A second Tarpon Bend concept remains open in Coral Gables.
"We're constantly trying to stay ahead of the curve and keep a pulse on the market to create new concepts that fill a void," Petrillo said. "Township brings something fresh to downtown, while keeping a piece of Tarpon Bend alive through its offerings, which we felt was important and makes it even more special."
Established in 1997, the Fort Lauderdale-based hospitality group's other restaurants and nightlife venues include YOLO and O Lounge, S3, Boatyard and Spatch Peri-Peri Grilled Chicken.